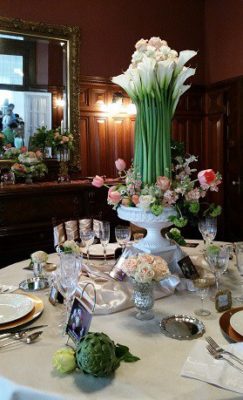 One of the highlights of my year in search of educational traveling with purpose is coming up next week. Do you love gorgeous floral arrangements, history, architecture? What about interior design, outdoor gardens or even just supporting a worthy cause? If so, you'll LOVE any of the Historic Garden Week Tours hosted throughout the Commonwealth of Virginia next week.
This is my annual reminder to set aside time to go from April 21 through 28th.  2018 marks the 85th year of tours and this year nearly 25,000 visitors will enjoy exclusive viewing of magnificent and often historic homes throughout the region. Do you know that some visitors have been traveling to Virginia annually for 30 years or more, just to take in as many tours as possible in the 9-day event?
Forty-seven Virginia Garden Clubs, with more than 3300 members, plan, organize and execute every detail of the tours. Their members are responsible for the artistic creation of over 2300 breathtaking floral arrangements that fill these spectacular homes with color, beauty and creativity.
Not quite sure it's for you? For more reasons, look at my post:
"6 Reasons NOT to Miss Virginia's Historic Garden Week"
What you need to know for Upcoming Tours, Beginning this Saturday:
Tour ticket prices vary by location and range from $25 to $55 per tour. Each tour includes a variety of homes and gardens, sometimes other public buildings too. Discounted advance tour tickets may be purchased online or at local outlets. If you plan to visit several tours throughout the state, consider a Statewide Pass. IMPORTANT – Advance tour ticket sales end 48 hours before each tour, and the price goes up on tour day, so check your calendar and suggested itineraries today.
Remember that proceeds raised by the Garden Club of Virginia go toward excellent causes, like scholarships, historic garden preservation and the beautification of Virginia.
Visit the HGW website here for online ticket purchasing and all the details about the state-wide events.
Last year, I also had the honor of visiting the Norfolk HGW Tour and didn't get a chance to post photos, so I thought I'd share them here to give you a taste of what you might expect on a tour in your area.
Highlights from the 2017 Norfolk Tour:
Introduction:
Nestled on the banks of the Historic Hague are residences built in the late 1800s and early 1900s. Majestic homes are set within a quiet neighborhood featuring towering trees, cobblestone streets, parks and beautiful gardens. Each features a different turn-of-the-century form of architecture. All are preserved and representative of Norfolk's early elite society and a lifestyle that included lavish parties entertaining presidents, artists and city notables.
The Martin Mansion/ Norfolk Woman's Club – 524 Fairfax Avenue
(Tour Headquarters) This 10,000-square foot, 21-room Georgian Revival built in 1909 by Alvah and Mary Martin has been home to the Woman's Club of Norfolk since 1925. Mr. Martin served on President William Taft's executive committee and used his influence to secure the Port of Norfolk as the port of entry for Virginia. They built a house next door for their daughter Faye and her husband, S.L. Slover, who raised their nephew, Frank Batten, co-founder of the Weather Channel and Landmark Media Enterprises. The new Slover Library is named for them. The Woman's Club, founded by Virginia Gatewood in 1905, provides opportunities for spiritual and mental growth while serving the community. President Herbert Hoover once spoke there. In 1927 it hosted early classes for the Norfolk branch of William and Mary, now Old Dominion University.
Christ and St. Luke's Episcopal Church – 560 West Olney Road
Although the congregation of Christ & St. Luke's Episcopal Church dates back to the 1630s, this Gothic Revival English perpendicular cathedral opened its doors to its first worship service on Christmas Day almost 300 years later, in 1910. The exterior is made of granite, the interior is Indiana limestone, and the carved work in the choir and sanctuaries is Caen stone quarried in Normandy.
Reid House – Pembroke Avenue
This English Arts and Crafts style home was the fourth house built in Ghent for a young couple, Fergus and Mary Reid, in 1891. The three-story, seven-bedroom, 7,645-square-foot marble mansion was home to a glamorous couple that loved to entertain. Early guests included President William Howard Taft, Andrew Carnegie and Thea Musgrave, who composed an opera in the music room in 1977.
The Woodard House – Warren Crescent
Situated on a narrow curved street in the heart of this tree-lined neighborhood is a three-story, 4,700-square-foot brick and limestone Italian Renaissance home built in 1901 for $12,000 by Ernest L. Woodard, a local wholesale grocery merchant.
As you can imagine from the descriptions, each location was unique and wonderful. There was also a free class on caring for hydrangeas in the afternoon. Like many other tours, bonus admissions, like the Norfolk Botanical Gardens were also included in the ticket.
In 2018, the Norfolk Tour will be on Thursday, April 26th. Of course, if you're in the area you can also take in the Virginia Beach Tour the day before on Weds, the 25th.
Comment below to let me know if you've been on one of the Historic Garden Week Tours in the past or if you decide to give them a try this year. I'd love to know what you think.
Enjoy a slideshow with more photos from the 2017 Norfolk Tour by clicking on the image below. I look forward to hearing from you, or maybe I'll see you at one of the tours!
Category: 1 - 9 Days, Agriculture, Architecture, Floral Design, Gardening, History, Learning Travel, North America, Spring, United States, Virginia