About Me
Here's a little bit about me and why I started Traveling with Purpose to share with folks like you about service-oriented and educational travel.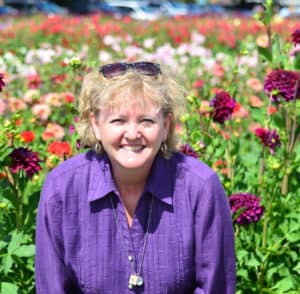 I'm an "empty-nester", except for my two chickens and one duck, that have nests of their own. We recently acquired these entertaining pets with the purchase of our house.
I'm proud to say that I've been married for several decades to a precious man who loves and puts up with me, even on my worst day.  We have two awesome, creative and talented "children", one new precious daughter-in-law and three precocious grand-cats, who are all discovering the world in their own new ways.
I have another part-time "day job" that allows me to help people in other ways too.
I've been dreaming about Traveling with Purpose for some time now and I'm thrilled that this site is helping folks like you find greater fulfillment through meaningful volunteer and educational travel. It began with a seed of inspiration to combine several passions that run through my veins. These are the essentials:
1.  The world is full of adventure and opportunity
I love sharing the joy of discovery with others through words and pictures. It's truly amazing what you can find, if you just take the time to look. I also have another site, where I post random, non-travel related discoveries at Unexpected Wonder.
2. Did I mention that I LOVE to travel?
We recently moved from the western United States to the Hampton Roads area of Virginia. My husband and I are using every chance we get to check out all the historical destinations around here. There's so much to see! I'm a huge fan of our National Park Service, the Revolutionary and Civil War Battlefields, James River Plantations, significant historic homes and gardens, maritime sites…and the list goes on. We could spend weeks on end in nearby Washington DC alone. It's been such a treat to learn just how many places our founding father, George Washington visited throughout the east coast. I've also had the chance to participate in a few trips abroad that were life changing.
When you sign up for my posts or newsletter, we'll visit unique locales like these, along with other interesting and exotic destinations either in real time or through the words and pictures of others.
3. Learn something new every day
Shouldn't we all be excited about learning? I love being a life-long learner in everything I do and look forward to sharing what I uncover about amazing learning opportunities through educational travel.
4. I love helping others
Being born with a servant's heart, it's always been hard for me to say no when someone asks for help. I also realize that there are literally millions of less fortunate people and causes that could use our assistance in many ways. I'm thrilled with the possibility of connecting those who need help, with folks like you who can reach out to them during your travels.  Are you looking for ways to invest your time with others and make your travel more meaningful?  Me too! We'll share some fulfilling opportunities.
5. I need your help too
Sign up for our newsletter for up-to-the-minute news, contests and more! Your participation in commenting and spreading the word about Traveling With Purpose makes the site that much more valuable. If  someone you know provides excellent service-oriented or educational  travel experiences, I'd appreciate hearing about them. If you're an educational or service-oriented travel provider yourself, and interested in sharing about your work, contact me, or sign up for my "providers'" mailing list here.
I love getting feedback, ideas and insights from each of you and knowing that you're reading.
6. Join our Community
…by liking us on Facebook and following us on Twitter and Pinterest. I post travel tips and share about trips that I think you'll love! This is where you'll get information the fastest.
I appreciate you taking time out of your busy day to stop in for a few minutes.
So sink into that comfy chair, grab a refreshing drink and start dreaming of your next destination. You're always welcome to hang out with us here. Stay as long as you like, share your insights and observations in the comments and share what you enjoy with your friends.
Please come back again and again to see what's new.
See you soon!