In October I enjoyed one of my best vacations ever. We traveled to France and Germany! In looking back over my many years of travel and adding this latest experience, it reinforces once again to me that OCTOBER is the best month to travel. Here's why: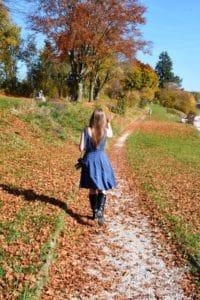 1.The summer crowds are gone – I don't know how many times I said, "I'm so glad we're not here in the summer." We had very little problem with lines or oppressive crowds even at the most popular destinations.
2. Temperatures are perfect for walking in most climates. I've found that mid-sixty degree temps (F) are most comfortable for walking. A heavy coat isn't needed. Generally a sweater and scarf are perfect for most times of day and those aren't bulky to carry around if the afternoon temps are a little warmer.
3. Bugs and humidity are gone – it can ruin a great walk or any outdoor activities if you're constantly swatting at flies or mosquitoes or dripping in sweat. Besides the discomfort (and possible odor), it's just exhausting. And let's not even talk about what that can do to your hair.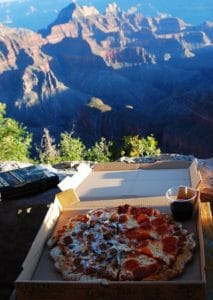 4. Alfresco dining is on every corner – eating outdoors is one of my favorite treats. When you consider the cooler temps, lack of humidity and absence of bugs in October, the prospect is even more attractive. During our Europe vacation we were able to have at least one meal at a cafe with outdoor seating nearly every day, enjoying the scenery and people watching. It was so refreshing!
Of course, you can plan a picnic anywhere when the weather's nice. One of my absolute favorite meals was this pizza and wine overlooking the north rim of the Grand Canyon at sunset. It was spectacular! Pizza never tasted so good. Here are some ideas for other awesome destinations for alfresco dining.
5. Venues are still open reasonable hours and are not yet closed for the winter off-season – Some venues may close an hour or so earlier in October than in the summer, due to shorter daylight hours, but its still possible to enjoy a full day of activities within the available time, especially because there aren't so many crowds and lines to navigate.
6. Autumn leaves are on display – for prime fall colors in the U.S. consider New England, Shenandoah National Park, or Aspen Colorado. Of course, these aren't the only places with great color. Even many parts of Europe and Asia have lovely fall foliage in October, which is an added bonus to an already perfect time of year. Here are 15 Places Around the World to See Gorgeous Fall Foliage.
7. Prices are often lower for accommodations, airfare, and rental cars – We were able to get round trip flights from Washington DC, flying into Paris and out of Munich for under $700 per person with IcelandAir! Our prices for hotels and AirBnB stays were also more reasonable than peak times. I'll share more about our great finds in accommodations later.
8. It's the perfect lull between summer busyness and the holiday rush. Looking for something to do before ramping up for the holidays? What could be more fun than a new adventure.
9. October also brings festival season! Think of OctoberFest in Germany and around the world, Fall Festivals, Wine Festivals, Harvest Festivals, or perhaps you have the Albuquerque International Balloon Fiesta on your bucket list. Foodies have a myriad of options as well. So many adventures, so little time…these are just a few.
10. If you're a fan of Halloween and all things scary, you'll find special spookiness this month. Ghost tours and haunting celebrations abound. Even Disney and other amusement parks are filled with ghostly experiences. Some are more family-friendly than others. Here are a few lists of haunted destinations in all shapes and sizes. Or start researching now with "A Ghost Hunter's Guide to the Most Haunted Historic Sites in America".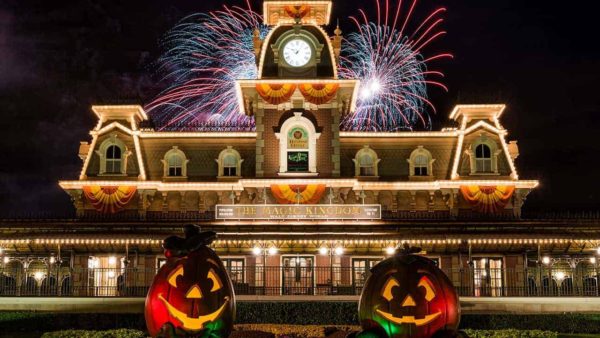 So, the next time you have the chance to travel in October, I hope you'll take advantage of this magical season. You won't regret it.
Where have you traveled in October? Which month gets your vote as the best time to travel?
Category: 1 - 9 Days, 10 - 21 days, 30 - 60 Days, Asia, Colorado, Culinary Arts, Duration, Europe, Fall, France, Germany, Inspiration, Learning Travel, New England, New Mexico, New York, North America, Regions, Season, Southeast U.S., Tips on Travel, United States, Virginia, Washington DC